Premium Wagyu Yakiniku Cuts (250g)
Premium Wagyu Yakiniku cuts (Choice of A3/ A4/ A5)
250g / pack
These Premium Wagyu Yakiniku are the ultimate cuts for Yakiniku BBQ. Specially selected from the Premium sections of the Sirloin and Ribeye, these Yakiniku cuts will give you the sensational melt-in-your-mouth Wagyu experience with every piece.
Premium Wagyu Yakiniku 250g/pack Our Premium Yakiniku are cut from our prime Sirloin and Ribeye sections.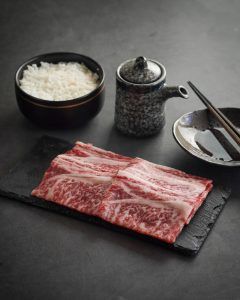 Pre cut into Yakiniku slices for easy cooking.