Marumi Pork Loin Yakiniku Cuts
Marumi Pork Loin
Yakiniku cuts
200g / pack
This Marumi Pork Loin is specially selected for our Yakiniku cuts, due to its juicy tenderness. Marumi Pork is chosen for its tender meat, flavorful and doesn't have the distinctive smell that normal pork have and it tastes slightly sweet too.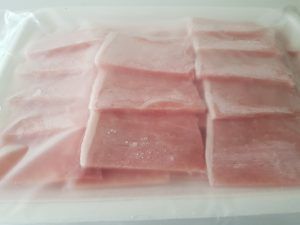 Marumi Pork Loin Yakiniku 200g/pack
Pre cut into Yakiniku slices for easy cooking.