Beef Tongue Yakiniku Cuts
Beef Tongue
Yakiniku cuts
200g / pack
The Beef Tongue is one of the much sought after cuts. Tongue meat is rich in calories and fatty acids, as well as zinc, iron, choline, and vitamin B12.
If you have never tried beef tongue before, you may be wondering what it actually tastes like. It tastes like any other cut of beef but has a melt in your mouth, soft texture.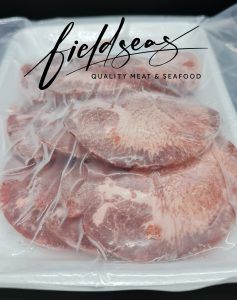 The Beef Tongue meat are thinly sliced suitable for grilling/yakiniku.
Seasoning: just with salt and pepper.